"It's what you learn after you know it all that counts. " - Coach John Wooden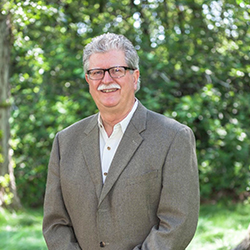 Stephen is an expert in the field of family business management. His career has spanned positions in sales and customer relations, social and marketing research, project management, policy analysis, legislative advocacy and CEO responsibilities in the non-profit and for-profit sectors. Stephen is currently the General Manager of his own family's Murrill Family Vineyards. Involved in the family business since its inception in 1985, Stephen has an intimate familiarity with the many challenges of managing a family business. Stephen has also volunteered with numerous community organizations and served on the board of directors of the Capital Region Family Business Center before being named its Executive Director. He also serves as Executive Director for the Central Valley Family Business Center. He is a graduate of the California Agriculture Leadership Program.
Stephen spends his weekends working on the family vineyard in Amador County. He enjoys reading, travel, photography and gourmet cooking and eating! In his spare time Stephen enjoys small-scale winemaking projects with family and friends.
Education: University of California – Davis, Bachelor of Science Wildlife & Fisheries Biology
Contact Stephen directly at (916) 429-0650 or [email protected].