Well, by the time this article reaches you the Final Four in college basketball will be finalized. But I have to say, what a great example this whole "madness" process represents in intensity – and leadership.
I am fascinated by it, first because college sports are my favorite, but perhaps even more because of the reminder of what leadership, through focus and intensity, can create. I can't think about the Final Four without thinking about John Wooden's coaching leadership at UCLA (and here they are in the Final Four). Coach Wooden lead UCLA to 10 National Championships during his coaching tenure at UCLA. This quote in particular stands out for me as one of the most meaningful insights into Coach Wooden's greatness, "A player who makes a team great is more valuable than a great player. Losing yourself in the group, for the good of the group, that's teamwork"
So, in honor of a coach that brought so much to the game – beyond the sport itself – we wanted to share with you this month some of Coach Wooden's contribution to leadership, his famous Pyramid of Success. Enjoy!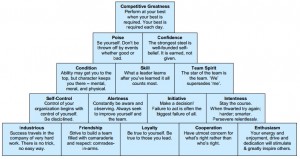 Hal Johnson is Chairman/Co-founder of LeadershipOne, a transition consulting firm. He may be reached at (916) 391-3042 or at [email protected].