Looking to broaden your knowledge base or dive deeper in a certain area of your career development? LeadershipOne's Applied Learning Center offers a host of classes and seminars that will help you grow both personally and professionally.
Current Class Offering:
The Importance of Emotional Intelligence in Leadership
Three dates to choose from:
September 26, 1:00 p.m. to 4:30 p.m.
October 31, 8:30 a.m. to Noon
November 29, 8:30 a.m. to Noon
For more information and registration CLICK HERE.
Leadership Series
Coming Soon! Stay tuned for class dates and information.
---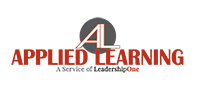 Applied Learning Center
2500 Natomas Park Drive, Suite B
Sacramento, CA 95825