Looking to broaden your knowledge base or dive deeper in a certain area of your career development? LeadershipOne's Applied Learning Center offers a host of classes and seminars that will help you grow both personally and professionally.
Current Class Offerings:
---
The Importance of Emotional Intelligence in Leadership
Current dates to choose from:
November 29, 8:30 a.m. to Noon
For more information and registration CLICK HERE.
---
Leadership Series
This twelve-month program is focused on establishing and developing the fundamentals needed for the next generation of leaders and managers of a family business.
Why Attend?
Join a network of developing family business leaders from various disciplines who can help shape your future as a leader. Gain direct exposure to the processes, programs, opportunities and challenges that impact family owned businesses and more.
Discounted program fee for members of the Capital Region Family Business Center.
For more information and registration CLICK HERE.
---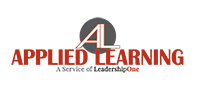 Applied Learning Center
2500 Natomas Park Drive, Suite B
Sacramento, CA 95825